Cute hats, quick blankets, warm winter wear and all manner of fun craft projects – fleece fabric has much to offer in terms of creative versatility. Most varieties of fleece don't fray which makes this fabric ideal for no-sew projects: trim yourself a neat strip of fleece and you have a scarf; cut out some flowers in a complementary colour to attach to said scarf and it becomes a truly unique accessory.
When buying fleece, it's important to consider what degree of warmth and durability you'll need. The original and most common type of fleece fabric is also called "polar fleece". It's available in lower-priced fleece prone to pilling (developing little balls of scuffed fabric with wear) and anti-pill versions that are more resilient. Polar fleece is also available in micro, light, medium or heavy weights. For a single-season item or crafting project, cheap fleece will suffice. If you want an item to look good in the long term, however, consider a quality anti-pill fleece..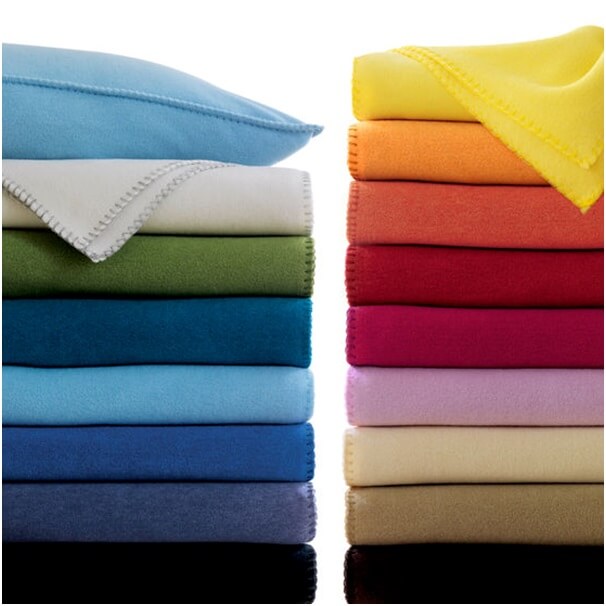 Fortunately, fleece is easy to care for. It can be machine washed and tumble dried, provided that temperatures are kept reasonably low (high temperatures can damage the fibres). It's also hydrophobic and holds less than 1% of its weight in water. This means that the fabric stays light even when wet, and dries quickly.
Since it's mainly made of polyethylene terephthalate (PET), fleece fabric can be manufactured from recycled materials like plastic bottles and old fleece. When working with fleece, be aware that it can generate a lot of static. It's also ill-suited to clothing worn during exercise as it doesn't absorb sweat.
Fleece got its name because it was originally designed to be a cost-efficient wool replacement. The first version of fleece fabric was manufactured by Malden Mills (Massachusetts) in 1979. Its creator, Aaron Feuerstein, did not patent his newly invented fabric which allowed it to be globally produced at low cost. Decades later, its low price, strength and warmth still make fleece one of the best fabric choices when it comes to function and ease of use.